---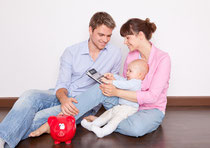 An accounts book should be clear and easy to use, otherwise you quickly grow tired of using it and lose sight of your financial situation. This app helps you stay on top of your income and expenses, making it easy to manage your money. Do you want an easy way to keep track of your income and expenses? Do you want to have a long-term overview of your accounts? Do you want to get meaningful statistics based on individually selected criteria (main and sub-categories, payment method, people and groups)?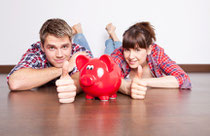 Do you want to know where you are spending too much and where you can save money? Do you want to print data from the app or transfer it to other programmes (e.g. Excel, Numbers ...)? Do you want to import your bank data? Do you want to back-up your data securely in the Cloud? Do you want a simple, powerful and low-priced universal app? Then this app is exactly right for you. 
If you experience any problems with the app, just send us an e-mail, instead of leaving a negative review. Unfortunately Apple does not allow us to answer questions made in a review. Most of the problems have been solved by answering your e-mails. You will receive as soon as possible a comprehensible response. If you read our reviews you will see that most of the users are enthused about the support.
Do you already know the Pro-Version? This app provides numerously new functions and provides advantages with the collection and evaluation of data. It only takes 3 clicks per booking. There are not many comparable apps that enable such a fast working. Convince yourself. You can test the app for free (including in app purchase).    
---
The support is absolutely great.
Suggestions are even recognised by the developer! What do you want more?
The app is very well constructed! It's fun to record one's income and expenditures.
I am impressed, everything you need and super overview.
Easy and intuitively to handle, quick and logically adaptable to personal needs.
Totally excited. Worth the money in any case.
---
---
2018-06-26 : My Budget Book 4.9
This release contains bug fixes, optimizations for iOS11, and design adjustments for iPhone X. 
Some minor bugs are fixed and the stability is improved.
Finally iPhone X and iPhone 8 Plus support available.
The navigation bar at the top has been adjusted. You can create a new income, expense or transfer and sort the table directly from here. Some icons have also been updated and the color has been changed.
The (blue) control element below allows you to change all settings (account, view, sorting), create a new income, expense or transfer and call other helpful commands.
We have checked all CSV files and we are now supporting other banks, apps and programs (e.g. Outbank, Wüstenrot Bank, NS24-Bank, ING-Diba, LBB, Postbank, ComDirect, Deutsche Bank, Volksbank Kärnten, DKB, Sparkasse, 18400 Generali, Pennies App, Money Couch App...).
You can find all changes on the following page.
We would very well appreciate if you enjoyed this version, stay with us as users and rate the app in the AppStore. The improvement and the maintenance of the app can only happen if it is accepted and if the fake, untrue ratings vanish. If you experience problems with the app, please do not give the app a negative rating immediately but contact us (info@onetwoapps.com). Unfortunately, we cannot read all reviews from across the globe. The problem is not solved this way.
2017-10-08 : My Budget Book 4.8.1
This update includes minor stability and performance improvements. A few mistakes were fixed and accommodations to iOS 11 were carried out in addition. 
Optimizations for the new 64 bit operating system iOS 11
New pin code request – We have deactivated the current password! Please assign a new pin code!
Support of incremental CSV formats (1822 direct, Bank Austria, ComDirect)
The internal CSV import & export was improved
You can find all changes on the following page.
2017-09-12 : iOS 11 & 64 Bit

This App is compatible with iOS 11 and was optimized for the 64 bit operating system. You can promptly switch and use our Apps. Please make sure to create an (external) backup in advance in the event of any problems during the installation process.
2017-08-09 : My Budget Book 4.8
This update includes small improvements in stability and performance. In addition various errors were fixed and adaptations to iOS10 were carried out. Moreover, the CSV import was extended. Now we support additional banks and programs that provide CSV files. You can find all changes on the following page.
2016-05-10 : New Version 4.7.2
This update includes stability improvements and bug fixes.  You can find all changes on the following page. For this app exists now a preview video. Many thanks to Oliver Koenig  (http://www.app-audio.com) for the video creation and the music compilation. 
You think this app is helpful? Then please write a review or recommend the app to a friend.
---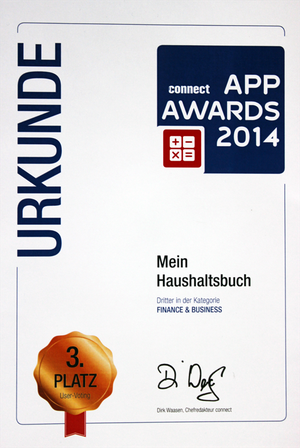 The App My budget book  has achieved a good third place in the category finance & business  in the CONNECT App Awards 2014.
CONNECT is Europe´s biggest magazine in telecommunications.
---
The highest placement of "My Budget Book" was rank 1 (all categories/February 2015) in Costa Rica and rank 2 (all categories/march 2012) in Germany. Furthermore this App was rank 1 in the following countries: Austria, Colombia, Croatia, Czech Republic, Ecuador, El Salvador, France, Greece, Guatemala, Honduras, Hungary, Ireland, Italy, Kazakhstan, Latvia, Lebanon, Luxemburg, Malaysia, Mali, Malta, Netherlands, Nicaragua, Nigeria, Peru, Poland, Portugal, Russia, Saudi Arabia, Slovenia, Spain, South Africa, Switzerland, Turkey, Ukraine, United Arab Emirates.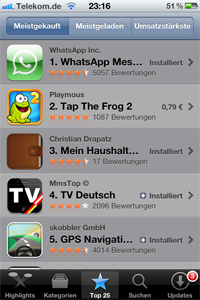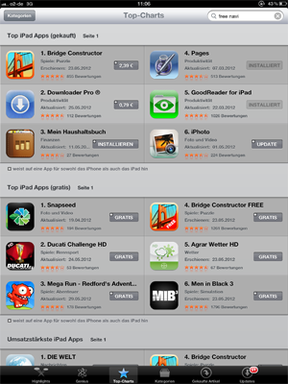 ---
The App is aimed to support many banks as much as possible. Please contact us by email 
support@onetwoapps.com
.  if your bank is not supported. Due to the SEPA (Single Euro Payments Area) migration the CSV datas could have been changed.
As we don't receive the CSV datas automatically by the banks, we are depending on the users. If you may provide the required informations, we will install the CSV-import.
Your email should include the following informations:
- bank sort code and the name of the bank
- exported CSV data from your online banking
Very important:
Please make personal datas or information unrecognizable, such as account numbers, posting amount and names, but without changing the structure and the formatting. 
---
We would be pleased, if you support us (voluntary) with a fair and just assessment in the app store
A complex and expensive development only makes sense, if every user and not only the user with a negative attitude will evaluate the app. Unfortunately we receive some bad assessments, only because the icon may not be liked, or because of operating errors, or because of missing functions i never promised in this app. Even the smallest faults, misunderstood functions, or failures are evaluated with only one star ( which means a bad assessment).
We make a great effort to implement many customer wishes and to offer technical support. Since 3 years we develop the app continuously, and offer new versions free of charge  to regular customers. These free of charge updates are financed by new sales, and we renounce  in app purchases or subscription services.  
After each release every user should or can leave a feedback in the app store, To support the further development we would be pleased for every fair assessment. Of course all errors will be fixed in the future and updates are provided free of charge. 
Thank you. 
---
We would like to feature more languages in the app. If you have interest and time to contribute, we would highly appreciate your translation of our resource file (Excel) and the iTunes description (Word) to any language. Simply leave us a message at support@onetwoapps.com so we can discuss the process. Thank you very much!
---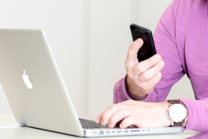 Do you have any questions, suggestions or criticism? Please send us an e-mail. On our feedback page you have the possibility to leave a message, or to discuss with other users. We are pleased about any message, we are at hand to help.